2009, our fifth year of owning Bells Echo Vineyard was a year of transition and meeting goals we established when we first started farming. After the disastrous year of 2008, 2009 provided to be a far better growing season.

The spring was warm with very little frost protection required. The bloom season was cool and extended, which did cause some shatter in the Merlot. The summer growing season was warm and pleasant, which continued on right into fall. Our only weather setback was a very unusual tropical rain in September, where we received almost 3 inches, which then set the ripening back a bit. The weather turned back to sunny and pleasant, which provided the most beautiful fall harvest weather we have experienced.

The economic down turn has added a new trying dimension to selling our grapes. We were fortunate to sell grapes to loyal repeat clients as well as establish some very exciting new relationships with local wineries and also diversify to other wine regions outside
California.

As we look forward to the 2010 growing season we are very excited about two major goals that we achieved in 2009.
Goal 1: ORGANIC GRAPES…
Our 10 acre Merlot Block and our 5 acre Petit Verdot block were certified organic in late September in time for the 2009 harvest. It was our main goal when we bought Bells Echo Vineyard in the spring of 2005 to immediately implement sustainable farming practices throughout the vineyard and ultimately transition to an organic vineyard. After 5 years we have obtained the organic transition for these two varietals.
Goal 2: AWARD WINNING VINEYARD…
The transition to sustainable farming practices and organic farming was to accomplish a two-fold end result; One was to be considerate and respectful of the natural setting in which the vineyard is situated and be a positive impact on the environment as a whole. Two, was the firm belief that the use of more soft and bio-diverse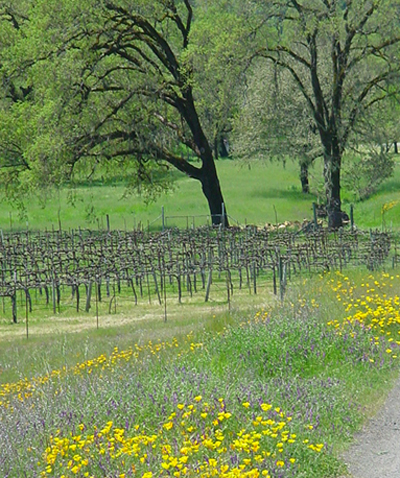 farming techniques and farming products and practices used to care for the vines and soils would have an end result of increasing fruit quality and intensive fruit flavors.We are now beginning to see the positive results of these farming practices, with an unprecedented year of Bells Echo Vineyard Designated Wines receive numerous awards and 90+ point ratings: